Last Updated on March 14, 2022 by Ali Abbas
Make Money with Affiliated Web hosting program is going to become a trend. Many online Websites selling Different Products of different companies get Commissions over them. Many peoples buy means you get a high commission.
But Web hosting affiliated Programme gives a High rate of Commission to their Affiliated Partners. Although, There are big Chances to Increase Big Money with Affiliated Programme.
There are Many Other Programmes like Google Adsense, Yahoo Bing Network, Infolinks But You can make huge Money with Web Hosting Affiliate Programme.
There is Many Niche to earn More Money But Publishers get more money with Web hosting Niche.
Here is Some Question about Why We Joined Affiliated Program.
Normally, you get money from Google Adsense-like program when the user clicks on Advertisement but in Web Hosting Affiliated Programme, you received Payments when the user Buy Products given your link on Website and then you get a High Rate of Commission.
How to Promote Web Hosting Products on Your Blog
A Big Question, yes or Not, But My Answer is Yes. Creating an Account for a Web-hosting Website and generating Affiliated Links is Very Easy. But Received Commission from your product referral links is very hard. There are many ways to earn Cash from your Affiliated Links. Here is a list of Best Ways to Promote Website Affiliated Links.
Everything you need to know about How to Start a WordPress Blog
Display Affiliated Link Banners on Website
All Web hosting Companies provide Banners advertisements to Promote Affiliated Links. This will Encourage Website Users to Purchased Products Via your Affiliated Links. Web hosting companies provide HTML-based Banners to Show on your blog and Website Readers may buy products Via your links during Visits to your websites. Best Affiliate Web hosting Program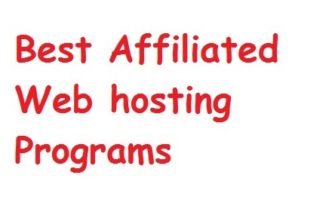 Write A Web Hosting Review on Web-hosting Site
This is a Very Popular Way to Increased your Sales Via Affiliated Links. you need only Write a review on the hosting Site. Within this Review, you can describe your web hosting experience and share your affiliate links within post text. Best Affiliate Web hosting Program
Add your Affiliated Links into your Site Footer Contents
This is another way to Promote your Affiliated Links Via your site footer contents. you just add "Hosting by"links in your site footer or header empty space.
Here is a list of 10+ Best Paying Affiliated Web Hosting Programme
The above list is best for your Word Press Website Hosting.