Blogger Blogspot is Google based Free Webhosting Program Where Blogger can create a free blog for your blog. I will not write a long article like others just I will clear the topic between 300 to 500 Words.
As WordPress, Be Careful to upload and Install Blogger Template with proper manner.
Before Choosing the Theme, you can find Our List of Best Professional Blogger Templates Free Download.
As A Beginner, I am here with New Article about How to Upload Blogger Template on your Blogspot Blog.
Read Also:
How to Upload Blogger Template – Beginner Guide
Before Upload, you should choose the Best Blogspot Template for free. Here is a List of Websites where you can download Free Responsive Blogger Template.
Download Any Blogger theme from Above Website. Unzip XML file from Zip Folder and then save on Your Computer or Laptop.
Upload Blogger Template
First, Login into your Blogger Account.
Select Blog that you wants to change the theme.
Then Select Theme Option from Right Side Bar Like This

Here is Two Option of Uploaded your Desired theme.
First Option
After Selected Theme Option, Upload XML File to Blogspot Via Upload Option.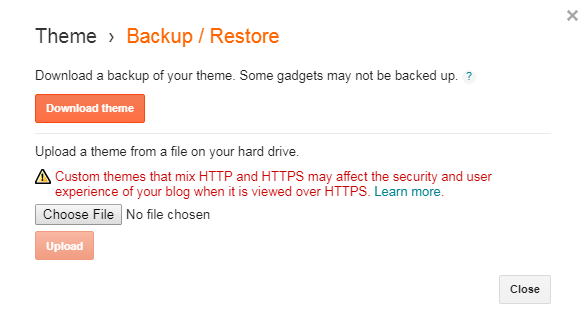 Only XML File Will be uploaded Via this way.
Note: Sometimes Blogger does not accept XML file type with the process, then you can select 2nd Option.
Second Option
Some Time, When We Upload XML File Upload with the First Option then Google Blogspot show some Error, So Here is Another Option to Upload Blogger Theme.
Open XML File with Notepad.
Copy All Code
Login into your Blogger Account.
Goes To Your Blogger Templates Setting.
Click on Edit HTML.
After Select Current Template Code, Paste Notepad Copy Data and then Click on Save Theme Button.
You Have Done.
Frequently Asked Questions
How do I Upload An HTML Template on Blogger?
1. Sign in To Blogger Blogspot
2. Choose the Blog you already Download
3. In the Left Menu, Click on Theme
4. Under My Theme, Click More:// Edit HTML
5. Make Your Change in HTML Template and Press Save Button