Last Updated on May 5, 2023 by Ali Abbas
Backing up your WordPress website is an essential step in ensuring the security and continuity of your online presence. There are several methods to backup your WordPress website, including manual backup, backup plugins, and web host backup services. Here's a step-by-step guide on how to backup your WordPress website using these methods. In This Article, you will know about everything about How to Backup WordPress Site.
How to Backup WordPress Site
A Backup is also safe for you Against Malware or Hackers. Sometimes you need to build your Website from Scratch and this creation your most time.
How to Use WordPress Ping List 
Best WordPress Theme Detector Websites list
In this post, I will tell you How to Backup WordPress site with Some Easy Methods.
How to Backup and Restore your WordPress site with Updraft Plus
In Mostly Cases, website owners purchase Plugins for their website if they high Budget. But If you started New Website, so you can use Free Plugins to backup your WordPress Site at Any Time. I suggest you Download Updraft Plus on your Website. This is one of the best free WordPress plugins to backup & restore your WordPress files.
You Can Download The Plugin from the Link.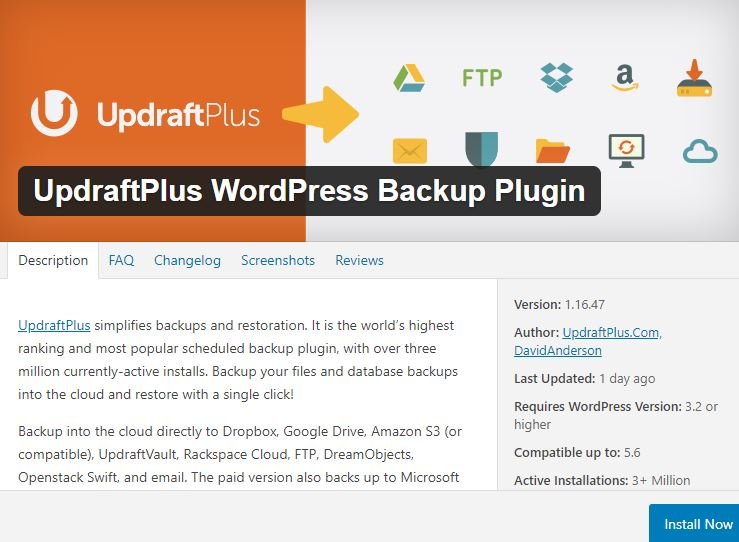 Updraft Plus Plugin Review
With 3 Million Active Installations, this might be the best WordPress plugins for your website to restore and backup files. This plugin offers a backup and restores feature. These features are included in:
This Plugin can perform manually or schedule according to your Need.
Store backup files into Dropbox, Amazon, S3 & Rackspace.
Also, split your website into multiple archives.
Easily restore your WordPress site from backup files.
Let's Take a look at how to work with Updraft Plus Plugin.
First of All, Install and Activate the Plugin from your site Dashboard or you can download it from WordPress Plugins Directory.
Complete Guide about How to Install WordPress Plugin 
To start the backup process, Go To Setting..>Updraft Plus Backup Option and Click on the Backup Now Button.
After click on Backup Now button, you can choose Backup your database, your files or Both, Its depends your needs.
Choose Remote Storage
You Can choose your Own Storage. There are multiple Storage point where you can save your backup files and database. Remote Storage Locations are:
DropBox
Microsoft OneDrive
WebDAV
Amazon S3
Microsoft Azure
Openstack Swift
Dream Objects
Google Cloud
Google Storage
BackBlaze
Scheduling backup Files
Updraft is the best feature is scheduling backup files. Click on the setting tab of the plugin, where you can able to create a backup for your Files or Database Files.
You can set up your backup time, daily, weekly, or when you required it.
Once you setup your backup schedule, you need to connect updraft plus to your Storage Location where you can save your database files. Complete the Setting and Press Save Button.
Now! you have done your Job. The backup of your blog has been completed.
Features of Updraft Plus Premium
Updraft Plus has also Premium Plan which has more useful features are Included.
Database Encryption
Incremental Backup
Multisite/Multi-network Compatible.
Easily duplicate or migrate your WordPress Blog.
More destination for your storage.
Advanced Reporting.
Premium Plan starts from 70$ for A year with 2 websites.
Here are some other method about How to Backup WordPress Website.
Method 1: Manual Backup
Step 1: Login to your website's cPanel or FTP account and navigate to the root directory of your website.
Step 2: Select all the files and folders in the root directory and download them to your local computer.
Step 3: Export your website's database by accessing the PHPMyAdmin tool from your cPanel account. Select the database associated with your website and click on the "Export" tab. Choose the "Quick" option and select the format for your backup file. Finally, click on the "Go" button to download the database backup file.
Step 4: Save both the downloaded files in a secure location, such as an external hard drive or cloud storage.
Method 2: Backup Plugins
Step 1: Install a reliable backup plugin such as UpdraftPlus, Jetpack, or BackWPup.
Step 2: Activate the plugin and configure the backup settings. Choose the backup frequency, backup location, and type of files to be backed up.
Step 3: Initiate the backup process by clicking on the "Backup" button.
Step 4: Download and save the backup files in a secure location.
Method 3: Web Host Backup Services
Many web hosts offer backup services as part of their hosting package. Check with your web host to see if they provide backup services and how to access them. Here are the general steps:
Step 1: Login to your web host account and navigate to the backup section.
Step 2: Choose the frequency and type of backup to be performed.
Step 3: Initiate the backup process.
Step 4: Download and save the backup files in a secure location.
Conclusion
All About How to Backup WordPress Site details you read also.
You can Read All details about it and if you hesitate, you can comments end of the post in comment Section.
If you wants to get Services from Our Team to backup and restore your Data, you can contact us at any time.