Reverse Image Search helps you to Find Similar Images on Google and Other Search Engine. No One Clearly knows about How to Reverse Image Search Works. In this article, I will briefly Discuss This Pretty Useful Tricks to Search Images on Google and Other Search Engine Like Yahoo and Yandex Reverse Image Search.
First We Discuss Reverse Image Search Technic on google. How Its works with Google Desktop Users and Mobile Users.
Reverse Images Search on Desktop Computer
Google Image Search on Desktop Computer is Pretty Much Useful Technic.
Go to Images.google.com and click on Camera Icon Button or past Image of that Url that you used for Reverse Image.
Reverse Image Searches on Android or Other Mobiles
Google also built Reverse Images Search for Mobile Phones and Tablets.
What you will do when you repeat this process on Android Mobile. We are some Option for you when you are Using Mobile Devices.
When you use Image.google.com on your android on Chrome and Safari Browser, you will not see Camera Icon on Show Bar. So you need to load desktop versions on your Mobile Phone.
In Chrome, Scroll to Bottom and Click on Three-dot-menu and select Request desktop site. After this Request Desktop Version will open and Camera Icon will appear on the screen. Now, you can upload photos from your mobile camera.
The Google Chrome App Browser for IOS and Android also helped Reverse Image Search. When you have An Image to Search, Hold it to Appeared Pop-up Menu. Select 'Google Image for Search' at the Bottom.
Note that This Trick will not work in Google Apps or Chrome Browser.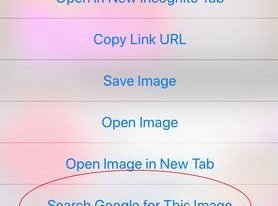 Sometimes this trick will not work.  So Another Option is Here, you can use reverse.photo. This is a very Simple Page to work with Google to find out Reverse Photos.
Its Crawled by 34 Billion Images to Date and This counting Continue. TinEye allowed to you upload Photos and drag and drop photos. It also works better than any other.